Blue Cross and Blue Shield of North Carolina Foundation
The Community-Centered Health initiative takes a deliberate approach to building the capacity of safety net providers of clinical care in North Carolina. This approach prepares clinics to engage effectively with partners in community prevention as they work to improve population health.
Area of Focus: North Carolina
Highlights:
Healthy Places by Design collaborates with the Care Share Health Alliance, the Prevention Institute, and BCBSNCF staff as part of a team approach;
Advises the team on program design;
Helps select candidate communities for further training and technical assistance; and
Serves as faculty and a facilitator for a statewide training workshop for 12 county-based partnerships.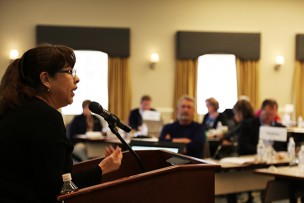 Funding Partner: Blue Cross Blue Shield of North Carolina Foundation
Engagement: 2014-2018
Services Provided:
Grant program design
Convening and training
Tool and resource development
To learn more, explore stories from the project.
"With Community Centered Health, we knew we needed expertise. Honestly, I can't imagine going to anyone else nationally or in North Carolina for that work…for expertise in partnership work, in prevention, in policy, systems, and environmental change. To me there was no other choice."
Jennifer MacDougall, Healthy Active Communities Senior Program Officer, Blue Cross Blue Shield of North Carolina Foundation