Last week the Robert Wood Johnson Foundation (RWJF) recognized six communities from across the nation (out of hundreds of applicants) with the 2014 RWJF Culture of Health Prize for their innovative efforts to build a culture of health for all. Prize winners take a broad view of health that acknowledges the influences of behavior, clinical care, social and economic factors, and the physical environment on health outcomes. They are, in the words of Dr. Risa Lavizzo-Mourey, RWJF president and CEO, "inspiring examples of what is possible when all sectors work together so that every resident has the opportunity to live a long and healthy life."
Despite their many accomplishments, though, most of the winners acknowledged a "tale of two cities" that still exists—a chasm that divides populations or neighborhoods within their communities that makes health for all a challenging goal to achieve. That really resonated with me as a resident of Durham, NC for 25 years. I know that for all of its many gains in transforming itself from a tobacco town to "The City of Medicine," in many ways Durham (one of the Prize winners) remains a study in contrasts. I see this is as an active user of the American Tobacco Trail (ATT), a 22-mile paved greenway that connects downtown Durham to the southern part of town and two other counties.
When the final section of the trail was recently completed, it included a bridge over the interstate highway. Since the bridge opened, trail use increased significantly for recreation, exercise, errands, community events, and commuting to work and school. Once the purview of a relatively homogenous mix of runners, dog walkers and bikers, the ATT's bridge over I-40 has literally begun to bridge neighborhoods, cultures, races, ways of life and generations within Durham and beyond.
The trail ends in close proximity to the downtown that, in the last five years, has become a vibrant destination for nationally acclaimed restaurants and entertainment. Yet some of the neighborhoods adjacent to the ATT have not fully benefitted from the area's upswing. Assaults, car break-ins and other crimes of opportunity have taken place on certain parts of the trail, prompting some people to avoid those areas altogether because they feel unsafe.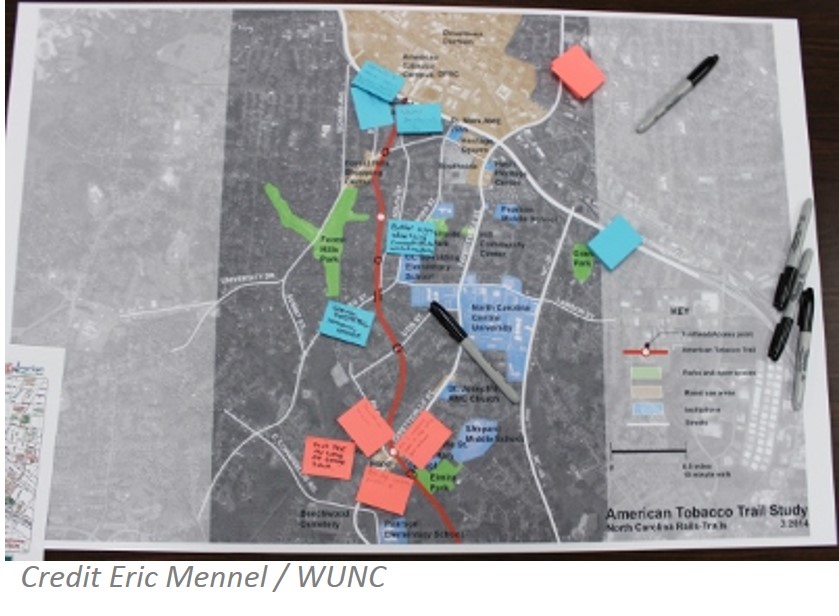 Recently, a coalition of bike, trail and pedestrian advocates has partnered with law enforcement, congregations, neighborhood associations and researchers to identify the root causes of crime on or near the trail. As a result, uniformed police officers on bike now regularly patrol the ATT. Other recommendations that will lead to more fundamental changes in policies and practices are in the works. It hasn't been pretty, but what I love about Durham is that my community isn't afraid to take it on.
Like many communities we've worked with at Active Living By Design (ALBD), Durham leaders and advocates understand that creating a culture of health is a journey with a time horizon that goes far beyond a single prize, grant program or election cycle. In the words of one of the Prize-winning partners, "Change happens at the speed of trust."
Whether addressing active living and healthy eating, housing, income, transportation, employment, income, access to health care, or the myriad other factors that support or impede optimal health for all, relationships matter. As Gayle Harris, Durham County Public Health Director, said, "Bringing people together isn't always easy. Voices have to be heard. People have to be validated. And you keep hashing it out until you reach common ground. And I think when people cannot really worry about who gets the credit, the work is all so much better."
ALBD congratulates Durham County and Buncombe County, our neighbors in North Carolina, along with the four other Prize winners, for their tenacity and commitment to this inspiring and important work. Over the next several weeks, we will launch our new website and share new resources and lessons learned for community coalitions, funders and other healthy community advocates to help support this critical work. We encourage your feedback as we continue to engage in this collective journey to build a culture of health for all!
Note: The Robert Wood Johnson Foundation released their call for applications for the 2015 Culture of Health Prize. Learn more here.