"When you have people together who believe in something – things happen." Cesar Chavez
Healthy Places by Design's full team includes an amazing advisory board. They provide counsel, support, and diverse perspectives to help us think creatively. They are fully committed to our vision of healthy, equitable communities where everyone reaches their full potential.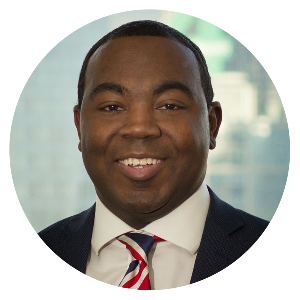 One of our newest board members, Chadwick Roberson, comes from the investment field—a different background than we've historically recruited (e.g., public health, nonprofit). Chad is President of Pivotal Advisors, an Outsource Chief Investment Officer (OCIO) firm specializing in serving foundations, endowments, and institutional retirement plans. The firm is the first of its kind owned and led by an African American and Afro-Latina woman. Chad works closely with the CEO and CIO to set the firm's investment strategy, including Pivotal's Environmental, Social, and Governance (ESG) investment lens.
As Executive Director of Healthy Places by Design, I was drawn to Chad's passion for serving his community (through his Fraternity, Alpha Phi Alpha Fraternity Inc., and by serving on the New York Urban League's board). I was also compelled by the commitment of his investment company to prioritize organizational impact on our planet and people. I recently talked to Chad about his experiences and connection to Healthy Places by Design's mission—about how and why he invests in health. Below are some of the highlights from that conversation.
RW: When did you first experience the relationship between health and community design?
CR: When I was in late grade school to early junior high, my mother—a single parent raising three children—made the bold decision to move us to a suburb outside of Dallas with the hopes of creating a better childhood experience. As we settled in, I started to notice things we didn't see in our previous neighborhood, like healthier restaurants, better grocery stores, more fitness and wellness centers, and better infrastructure overall. We were excited when they opened the neighborhood Wal-Mart across the street because we could get better groceries, more frequently. There were fewer liquor and cash advance centers in the neighborhood. One of my cousins came over to visit and mentioned how lucky we were because all he had was fast-food and junk food around his house. He wanted healthier options, but they weren't available in his neighborhood.
That must have been formative for developing your passion to give back and serve community. You've been volunteering for the Urban League for a number of years. How has this experience contributed to your understanding about how community conditions impact health?
Yes, I've been volunteering with the Urban League for 17 years to be exact. I started volunteering during college years and continued when I moved to New York City. One major thing I've learned from that experience is "to better understand a community, you need to be of the community." Meaning, you must be on the ground and engaged, you have to see the experiences and hear the stories directly from the community. By doing this, it helps you support a plan or solution that's not just driven on your assumptions but by your direct experience and by understanding how other community members experience the conditions of the place.
I couldn't agree more. What intrigued you about being on Healthy Places by Design's Advisory Board?
I've always been passionate about community and creating access and opportunities for others. So, it was Healthy Places by Design's ability to serve and impact the "Whole Community" that attracted me to joining the board. Too often we see community organizations address only one aspect of a community's need while neglecting other areas. Over time, this impacts the success of the initial solution because the unattended areas become more of an issue. I believe Health Places by Design is one of the few organizations that looks to address multiple areas within a community simultaneously, whether it's food deserts, public and community spaces, or lack of health and wellness centers. Community impact is not a singular item, it requires a multiple-pronged approach.
What tie do you see between Healthy Places by Design's mission - to ensure health and wellbeing for all through community-led, place-based strategies - and Pivotal Advisor's ESG investment lens? 
At Pivotal, we think about ESG a bit differently than our industry colleagues. Typically, when someone says ESG (Environmental, Social & Governance) they mainly focus primarily on the environmental aspect of things. We take a deeper approach by including the social and governance pieces. I believe there is a strong connection between Healthy Places by Design's mission and Pivotal's core investment thesis. For example, when we invest in an investment manager or a company, we always consider the possible downstream impacts. We ask ourselves, "outside of the investment returns, how many ripple effects could our investment have on the broader community." Like investing in a manager that focuses on affordable housing or creating enhanced infrastructure for underserved communities. These are the ripple effects that we hope to achieve with our investment approach.
That's impressive, Chad. You're walking the talk in terms of a whole community approach. I have one more question for you. At Healthy Places by Design, one of our internal values is joy. What brings you joy, especially during these challenging times?
It's the 4 F's for me. Faith, Family, Food, and Football. With so much going on in the world today, I try to be thankful for the simple things in life and never take even the simple things for granted again.
Gratitude is a definite life-enhancer. Thank you for bringing your strong leadership to our team, Chad. And for sharing the importance of a holistic approach to investing in health. 
Photo credit: Tim Mossholder, unsplash.com