In 2015, Brownsville, Brooklyn, NY, became one of six grantees in New York State Health Foundation's (NYSHealth) Healthy Neighborhoods Initiative (HNI). In 2018, Project EATS took leadership of the Brownsville initiative. Project EATS is a nonprofit community-based enterprise creating greater food access and wellness through small-plot farms and gardens on vacant land. Their food production work is integrated with community nutrition and workforce development programs. Project EATS' HNI strategy provided fresh organic produce in the community grown at the Brownsville farm site. Complementary efforts included youth training and mentorship in urban agriculture and a partnership with local healthcare providers for a fresh produce prescription program. The NYSHealth grant was led by Project EATS's founder, Linda Bryant, and coordinated with her team. Healthy Places by Design talked to Linda about the initiative. Here are highlights:
PB: What was your role in the HNI and at Project EATS?
LB: I am founder and president of Project EATS and oversee our operations and programs. My involvement in HNI flowed from those responsibilities. To me, it's more than a responsibility. It is based in what I value as a person and what we as an organization value—developing strong, respectful, and productive relationships with community residents and our partners.
What impact did your experience in the HNI have on you as a professional?
It helped me be more experientially aware of the challenges and benefits of working with other organizations as a convener. I am able personally to build on those insights. Our participation as a convener is different than if it is instigated from the outside, by a funder for instance. The approach and values of this initiative are what brought us together as partners. It forced us to think about the differences between organizations—their structures, approaches, and expectations. The Foundation had its own vision, goals, and approach for what it wanted to achieve, but they were not at the table with community partners doing the work. We had to learn to deal with how our collective achievements aligned with what the Foundation was hoping we would achieve. That was new to me.
From my experience, it was more critical to invest time upfront to understand and learn our partners' value systems. That way, when bumps in the road appeared, we could revisit the agreed-upon values and approaches. At Project EATS, we learned to identify, develop, and work from a shared value system when working with our partners.
What were the greatest challenges as a community convener?
Sometimes, it's necessary to have uncomfortable conversations with partners. As human beings, for the sake of what Project EATS brings to this community, and from our desire to have relationships with them, we needed to do it. Uncomfortable conversations are part of life. They aren't opportunities for an organization to assert authority. Each partner is in a different place. That has to be recognized, addressed, and balanced to build a collaborative environment. We were brought together to work together, that's the bottom line.
Competitiveness is unproductive and corrupts what we are all trying to achieve. It's important that we work that out. Make it part of the agenda to talk honestly about what's working well and what you wished worked better. Talk about the structure on the ground. Talk about the funder relationship. Talk about how they affect your work.
What are you most proud of as a convener?
I'm proud of direct employment through our youth program. It was huge. We originally started with three youths in a nine-week program. Those numbers grew and we reaped more funding for it. We also provided experiential learning by partnering with STEM teachers in schools. The Farmacy prescription program was a source of pride, as well. We were able to bring on new partners and funding because of the HNI. Residents acquired fresh produce that was fully subsidized. The HNI helped us view the Farmacy as more than a prescription program. It was about getting people to change to a healthy diet and lifestyle.
What are the biggest or most lasting impacts of the HNI in your community?
The young people appreciate food and its importance in life and in our community. Kids have so few opportunities for experiential learning in school. Every student can participate in Project EATS. One high school we worked with had police on campus and kids couldn't just hang out. We simply asked the police not to hang around the garden beds as we worked with students. And it worked. And school staff wondered how we did it, but the students were creating something together.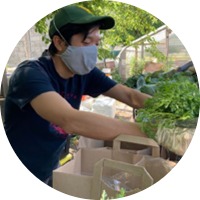 What advice would you offer to organizers from other communities?
My advice for conveners is to make it part of your job to have fundamental conversations about values, what's working well structurally and what's not. And do it early on. As an organization, we should be honest about the degree to which an organization's original intent may have shifted for its own survival, not its overall mission for change in the community. My definition of success is when we as an organization become obsolete in a community—the residents can do it themselves. That should always be part of the equation for nonprofits. That means, in Brownsville for example, our work is done when the farm is viable and being operated by the people of the community. Then it's time to move on to another community that needs our help. That's a hard sell, but we should be working to make ourselves obsolete.
What advice would you offer to funders supporting community health equity initiatives?
Funders in leadership roles need to be aligned with their staff and the board. Sometimes, program staff are supporting partner organizations and residents engaging in hands-on community-building and place-based work, while the board leadership is more interested in changes at the policy level. Those diverging perspectives need to be brought into alignment.
This blog is six of six in our Conveners for Health and Equity in Six New York Communities blog series. Read the full blog series here.