When philanthropic organizations invite Healthy Places by Design to support new programs, we take seriously the inherent privilege and power tied to that responsibility. As strategic partners, we influence the structure of such initiatives, which ultimately shape outcomes in communities. That's why we advocate for practices and investments that reflect our values of equity, community, collaboration, and integrity.
Back in 2014, Blue Cross and Blue Shield of North Carolina Foundation (BCBSNC Foundation) partnered with us for strategic advice as the foundation tailored its new investment, Community-Centered Health Homes (now Community-Centered Health). We appreciated the initiative's focus on all four of our values, and saw an opportunity to help deepen community engagement processes.
This initiative was developed to support collaborations between clinical and community organizations to better understand, and act on, non-medical drivers of health, commonly known as social determinants. The goal? To reduce differences in health that are closely linked with social, economic, or environmental disadvantages, and to improve health at the population level.
The emphasis on clinical-community partnerships differentiated this approach from other forms of collaboration. It encouraged full participation of healthcare organizations, and recognized that they, community organizations, and community members all have data and expertise that should inform strategies, approaches, and goals. Instead of an individual-centered and treatment-oriented lens on health, this approach was community-centered and prevention-oriented.
"Instead of an individual-centered and treatment-oriented lens on health, this approach was community-centered and prevention-oriented."
This could easily have become another effort for which formal organizations led the work and made all strategic decisions. However, as BCBSNC Foundation co-created this initiative with community leaders, we worked alongside them and other partners to deeply embed a process for shifting power to residents. Three leading communities—Asheville, Gastonia, and Greensboro—embraced this approach as they addressed root causes of poor health such as housing, transportation, access to health care, and poverty. Healthy Places by Design and co-technical assistance provider Care Share Health Alliance provided ongoing coaching support throughout the first three years of their implementation efforts.
Because we believe in the power of people to reshape their communities into healthier places to live, we asked questions about who would benefit from each decision and who else needed to be part of the conversations. BCBSNC Foundation's flexible plan didn't pre-determine the focus areas being addressed, which aligned with our belief in honoring people's unique contexts in order to improve their health and wellbeing with strategies that make the most sense for them.
In other words, decision makers at every level (from local leaders to funders) ensured that community residents could use their power to prioritize specific issues and solutions. While partners' data and experiences informed conversations, it has been the people navigating the challenges caused by health disparities who have determined the Community-Centered Health (CCH) project's focus. These residents engage with their neighbors and project partners to work toward long-term changes to policies, systems, and environments that improve health.
COMMUNITY EXAMPLES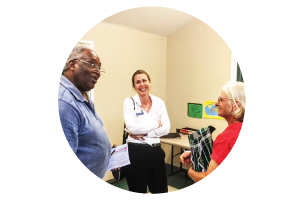 Greensboro, NC
For example, when Greensboro residents spoke about leaky roofs and moldy walls, asthma-related emergency room admissions were mapped against poor housing conditions. An apartment complex with an absentee landlord was pinpointed as the source of an asthma hot spot. Partners and residents organized and advocated for better living conditions, leading to the sale of that complex to a new owner, who has nearly completed renovations to all units. This partnership also strengthened resilience for other local challenges: when a tornado struck the same neighborhood, the CCH partners and neighborhood association members facilitated a stronger-than-typical response by quickly coordinating efforts to bring in water and food, remove trees and debris, and tarp damaged roofs.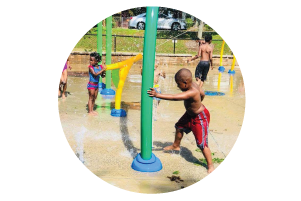 Gastonia, NC
Residents from a historically African-American neighborhood in Gastonia shared with CCH partners how it felt to be the only neighborhood in in the city that had a park without outdoor restrooms—which residents had been requesting for over fifty years. Their advocacy, and continued work with partners, resulted in a $2 million investment from the City of Gastonia in the Highland Community. The city built new affordable homes, high-visibility cross walks, a children's splash park, improved street lights, and—finally—redesigned park infrastructure to include outdoor restrooms.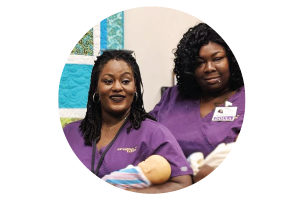 Asheville, NC
Finally, when disparities in infant mortality became the focus in Asheville community-wide conversations about institutional racism ensued, and Mothering Asheville engaged black mothers to determine the best strategies to address their needs. Those mothers identified doulas as a promising strategy to improve birth outcomes. However, the majority of local doulas did not represent the mothers who most needed their support. So, women from neighborhoods where rates of infant mortality were highest were trained and supported to become doulas.
As these three communities forged new relationships with partners to broaden the definition of health and strategies to address it, their accomplishments prompted health care partners to examine their own structures, practices, and procedures. For example, new providers have been trained to identify community context and population needs, not just individual rates of disease. New doulas and community health workers have been hired from within the neighborhoods they serve, and improved birth outcomes have already been noted. Community health workers have reduced rates of no-shows by removing barriers like lack of transportation. Other accomplishments, like new sidewalks and gardens, improved parks, and fresh food markets, have also increased patients' access to healthy food and physical activity.
Much has been written in the healthcare field about the benefits of increased patient agency, including improved health and wellbeing. The same is true at the community level. Shifting power to residents enables investments to more specifically address true barriers to health, rather than assuming "best practice" programs fit every neighborhood. Only community members can identify the root causes of their health challenges and develop the best solutions for them. Community-centered health, then, is a more sustainable and effective approach to creating healthy, equitable communities where all people can reach their full potential.