Active transportation advocates have had a big year. The United States Secretary of Transportation, Anthony Foxx, announced a new initiative to enhance pedestrian and biking safety nationwide, and the Alliance for Biking and Walking released a benchmark report with data showing safety in numbers and compelling success stories (like how Portland, OR, built an entire network of bike lanes for roughly the same amount of money that it would have taken to build single mile of urban highway). And at the polls on Tuesday, mass transit had unexpected wins in states like Georgia and Wisconsin.
Although bike and pedestrian infrastructure has begun to capture a growing portion of transportation dollars and conversations, not every community will benefit from the shifting paradigm at the same pace, and some won't benefit at all. What can communities with unconvinced city officials or small budgets do to take advantage of changing perspectives?
Use a pilot project to lower the political risk of investing in active transportation infrastructure.
At this year's North Carolina Bike Summit, pilot projects took center stage. The first Bicycle and Pedestrian Coordinator in Memphis, TN, explained that a bike lane installed with temporary tape swayed city leadership to not only invest in pedestrian projects, but to also institutionalize the pilot process itself. Now, Memphis uses pilot tests to refine pedestrian projects before committing to final construction. And in Raleigh, NC, wayfinding signs installed "illegally" during predawn darkness were so enthusiastically received by the public that the initiative, Walk [Your City], has grown to help other communities create more pedestrian-friendly places.
Pilot projects jumpstart conversations and frame them. Whether implemented by city-sanctioned or guerrilla-esque means, pilots catalyze citizen engagement. They can cause both delight and outrage, but the point is that people are talking about the pilot—not about how a space used to be.
Measure everything you do.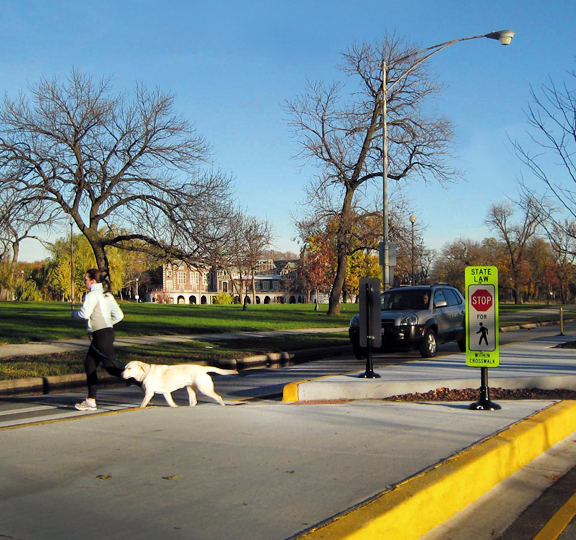 Pilot projects generate data that can provide economic incentives to move forward with permanent changes. For example, the Healthy Kids, Healthy Communities partnership in Chicago, IL, effectively used pilot testing to implement pedestrian safety improvements as part of a Safe Routes to Parks initiative in Humboldt Park. Active Living By Design's community spotlight on this project shares how the pilot process, after proving to be successful at reducing traffic speeds and volumes without significantly impacting surrounding roads, resulted in the allocation of $178,000 for permanent pedestrian improvements.
"Test, Then Invest" is one of 18 lessons in Lessons for Leaders, a resource that helps leaders of local healthy community partnerships be more proactive and effective. These lessons learned wouldn't be possible without the hard work of communities on the ground, so we want to hear your pilot project stories! Share your wisdom, wins and almost-wins with us on Facebook. How did testing, then investing, work for you?