I have the "honor" of being the oldest person at Active Living By Design and one of only two Baby Boomers in a sea of Gen Xers, Gen Ys and Millennials. Despite our age differences, we remain a cohesive group, thanks in part to our office culture of staying physically active at whatever life stage or fitness level each of us might be. With each passing birthday, my interest in learning more about healthy aging only intensifies.
During a family reunion this summer, I was lucky to hike in Ohio's gorgeous Cuyahoga Valley National Park with my cousin Jill, who is also my age and a fitness instructor and personal trainer at a nearby retirement community called Laurel Lake. During our walk, she shared a story of a hike she had organized with a group of fit, elderly residents as part of Laurel Lake's routine "active aging" outings. One of the residents tripped over a tree root, fell, and hit his head, requiring emergency medical care. When the paramedics arrived, they checked for a concussion by asking him a few questions, including his age. He replied, "I'm 92 and obviously too old to be doing this!" Despite his joke, his participation on the hike speaks to the value that Laurel Lake places on inclusion. While care is exerted to select trails that are appropriate for seniors, no restrictions are based upon residents' chronological age.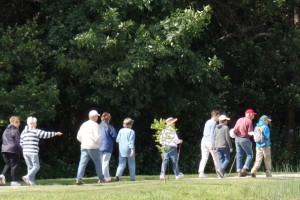 Half of Laurel Lake's 150-acre campus is preserved as green space—undisturbed woodlands and outdoor recreational areas. The physical layout of the campus was designed to allow residents to walk and bike on a five-mile nature trail, swim, garden, play tennis, boat, fish and cross-country ski. Indoors, a pool and fitness center are complimented by daily exercise programs with certified fitness instructors. During extremely cold winter months, the interconnected facility provides residents with an easy, indoor mile-long walking loop.
What is especially impressive about Laurel Lake's wellness approach is how it reaches beyond its borders to utilize community resources to support its active aging mission. Laurel Lake collaborates with a neighboring metropolitan park district, Summit Metro Park in Akron, Ohio, which provides 16 additional parks, several conservation areas and more than 125 miles of trails that are regularly used by Laurel Lake's residents. Laurel Lake also provides transportation to nearby park facilities for its abled-bodied residents to take advantage of the parks and program offerings, removing a critical barrier that often prevents the elderly from fully enjoying the outdoors or participating in community events. Laurel Lake's combination of intentional site and facility design, innovative programming and enhanced utilization of community amenities illustrates a winning approach for supporting active aging.
As the healthy communities field continues to absorb lessons from places where models of health are being tested, we have the opportunity to integrate those lessons into our work in more equitable ways. Laurel Lake is an ideal active aging model; but for seniors who retire in the same communities where they already live, access to greenspaces, safe places to walk, public transportation and supportive programming are often absent. There's still a lot of work to be done to ensure that all seniors have amenities to safely and enjoyably age in place.
My cousin says her work with Laurel Lake residents is incredibly rewarding, not just because of their improved fitness, but because she sees active living as an "investment in seniors' independence," allowing them to be in control of their own wellbeing for as long as possible. Isn't quality of life what we all really want in the end? This Boomer does.