The COVID-19 pandemic has disrupted the delivery of community services by New Jersey Health Initiatives (NJHI) grantees and has also caused the need for such services to spike. Now more than ever, these organizations need additional and non-traditional supports from funders. NJHI has risen to the occasion.
"Show me the money" was a line from a popular 90s movie and has become a catch phrase people use when they want proof that what's being asked or promised will be worth their effort. In the grantmaking world, it has been all too common for funders to provide dollars to community organizations, which in turn are expected to meet a list of grant deliverables on a strict timeline. In these scenarios, the relationship between funders and grantees is more like a business transaction than a collaborative partnership. Such a transactional approach does not account for other methods of investing in sustainable community transformation, such as developing shared goals, building partnerships and coalitions, bolstering community capacity, and offering flexibility when community context changes or an unforeseen crisis—like the COVID-19 pandemic—occurs.
The Center for Non-Profits, the state association for all New Jersey 501(c)(3)s, recently conducted a series of surveys to monitor the impacts and needs of New Jersey non-profit and community based organizations amid the COVID-19 pandemic. The survey revealed that nearly all respondents (94%) are experiencing significant or moderate disruptions to their programs or operations, with broad and far-reaching effects ranging from impacts on health, disruptions and cancellations of services and programs, and reduced donations and lost revenue. Now more than ever, these organizations need additional and non-traditional supports from funders. New Jersey Health Initiatives (NJHI) has risen to the occasion by addressing the areas of need outlined in the Center for Non-Profits' report.
Since 1987, NJHI has supported more than 40 statewide funding initiatives, supporting hundreds of organizations across all 21 counties in New Jersey. Over time, the NJHI team has developed collaborative relationships with these communities and relied on their grantees to advise their funding strategies. The impact of NJHI's grantmaking covers a variety of health issues, engages different audiences, and focuses on sustainable community improvement by providing supports focused on coalition development, planning, and capacity building.
The COVID-19 pandemic has undoubtedly heightened the need to address root causes of poor health and health inequities. While the crisis has disrupted the delivery of community services by NJHI grantees, the need for such services has spiked. NJHI's team recognized that the grants that were active before the pandemic could be strategically leveraged with additional funding to communities. They quickly deployed an additional $732,000 to 30 communities to enable them to address immediate humanitarian needs related to the pandemic like food security, housing and rent assistance, mental health support, and social connection. This additional funding has enabled grantees to cover costs associated with the crises in ways that mitigate widening health disparities and protect the original grant funding for its primary and longer-term purpose to improve communities.
The pandemic is also impacting community programs and services that NJHI's grantees provide. They have had to shift staffing and other resources to meet the basic and immediate needs of their community members. As a result, timelines for some projects needed to be reconsidered. NJHI offered timeline extensions for all of its active grants in order to alleviate additional and undue pressure on their grantees. Almost immediately, some grantees saw sharply rising needs in their communities and requested to pivot their focus to address them. In response, NJHI offered flexibility so that project deliverables and budget reallocations can address immediate community needs and issues such as food access and housing assistance.
"With the onset of COVID-19, we saw a dramatic rise in food insecurity—which was already a concern for the Millville community pre-pandemic," says Heather Santoro, Executive Director of the Holly City Development Corporation. "NJHI allowed us to not only reallocate grant funds, but also provided additional funding which enabled us to quickly shift our operations to deliver food to residents in need. In the months of the pandemic, we have delivered over 4,600 meals to students through the schools and delivered over 1,000 bags of groceries to families. Our community is forever grateful to NJHI for their partnership with us, as well as their flexibility in allowing us to serve our community in the way it has been needed, and continues to be needed."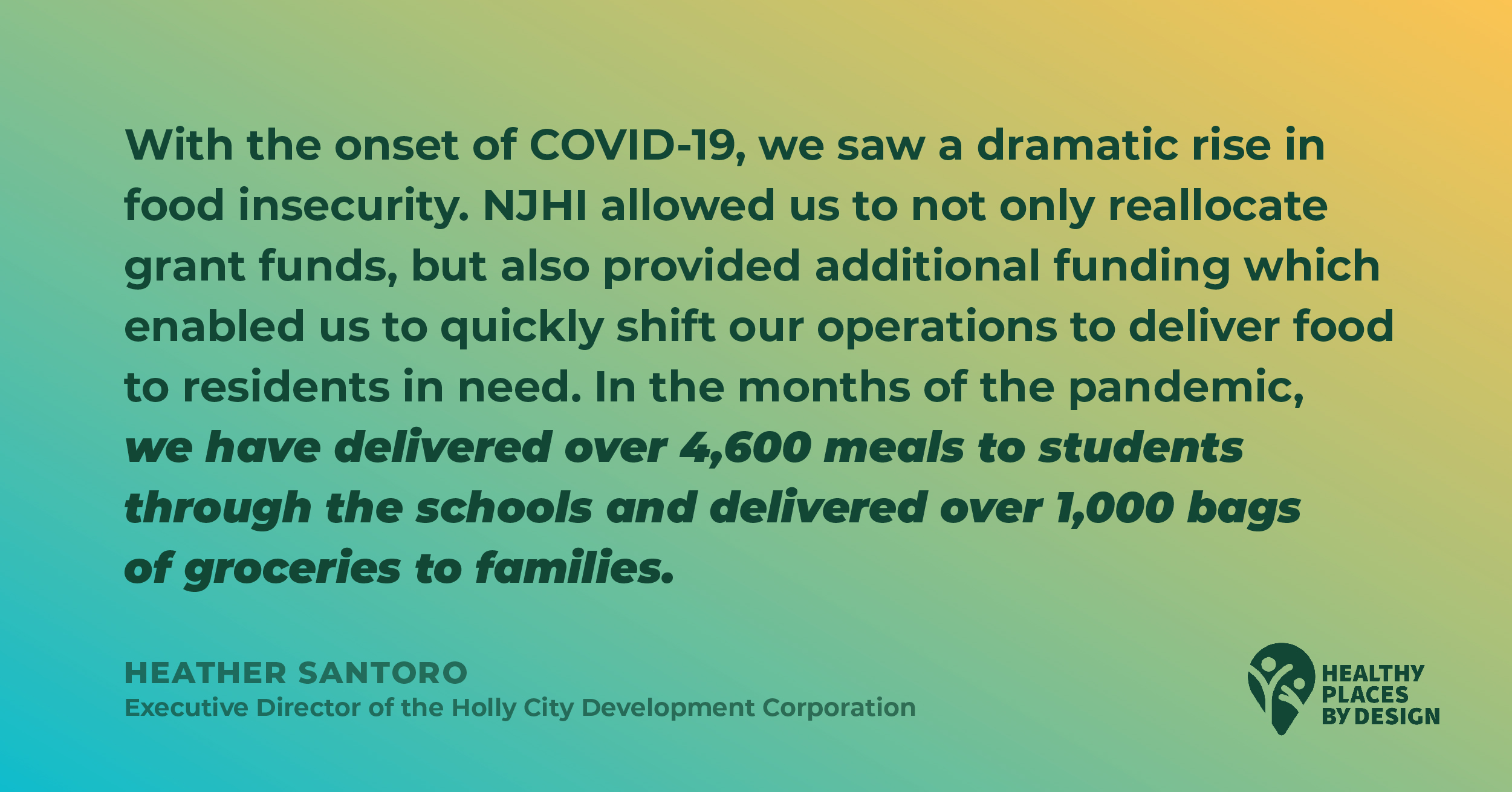 The crisis response has also required community organizations and coalitions to wade through an influx of information about resources and funding related to COVID-19. NJHI quickly took on the role of filtering and sharing timely and relevant COVID-19 resources for its grantees and partners on their website and through direct emails for more time-sensitive information.
Much remains unknown about both the immediate and long term impacts of COVID-19 on community health and the organizations that are working to improve it. This uncertainty is a source of immediate and personal stress for community leaders and grantees, and a reason for community coalitions to examine ways to build capacity to address these types of crises. NJHI had a record of investing in community and coalition capacity building even before COVID-19, including its partnership with Healthy Places by Design to host regular virtual learning and networking sessions for current and past NJHI grantees. Recent learning sessions focused on topics such as resiliency and being community change agents in a crisis. In addition, NJHI has offered community coalition leaders an opportunity for self-care through participation in an online resiliency course that is guided by a leadership expert.
"Our strategy of working with coalitions has been reinforced through the pandemic," says NJHI Director Bob Atkins. "Our funding has helped strengthen these coalitions, but now, with additional supports, they have relationships and connections that have allowed them to lean on each other to best meet the emerging needs of residents across our state. Our grantees and their community partners have really stepped up in a critical time of need, and are now beginning to reincorporate their original grant-focused work among these new efforts that may continue for the long-term."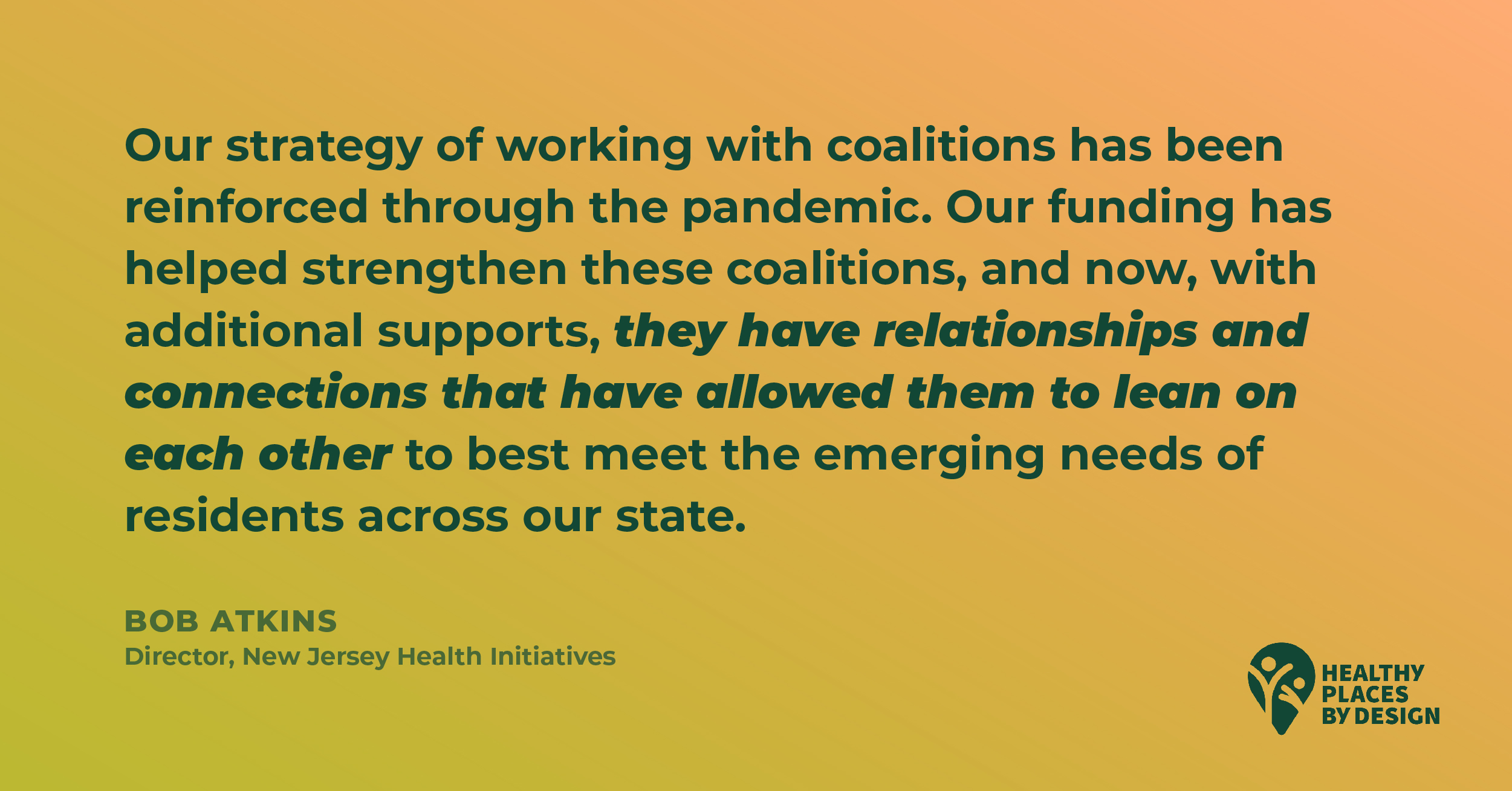 These are just some of the highlights showing how NJHI has provided meaningful support, flexibility, partnership, and connection with their grantees. Healthy Places by Design's partnership with NJHI has enabled us to see firsthand that the investments they make in communities are about more than the money: they also provide supports that will have impacts beyond the pandemic. NJHI's authentic and consistent care for its grantees and the communities they serve provides much-needed hope and is an approach that all funders should aspire to achieve.
Pictured: Holly City Development Corporation, Millville, NJ